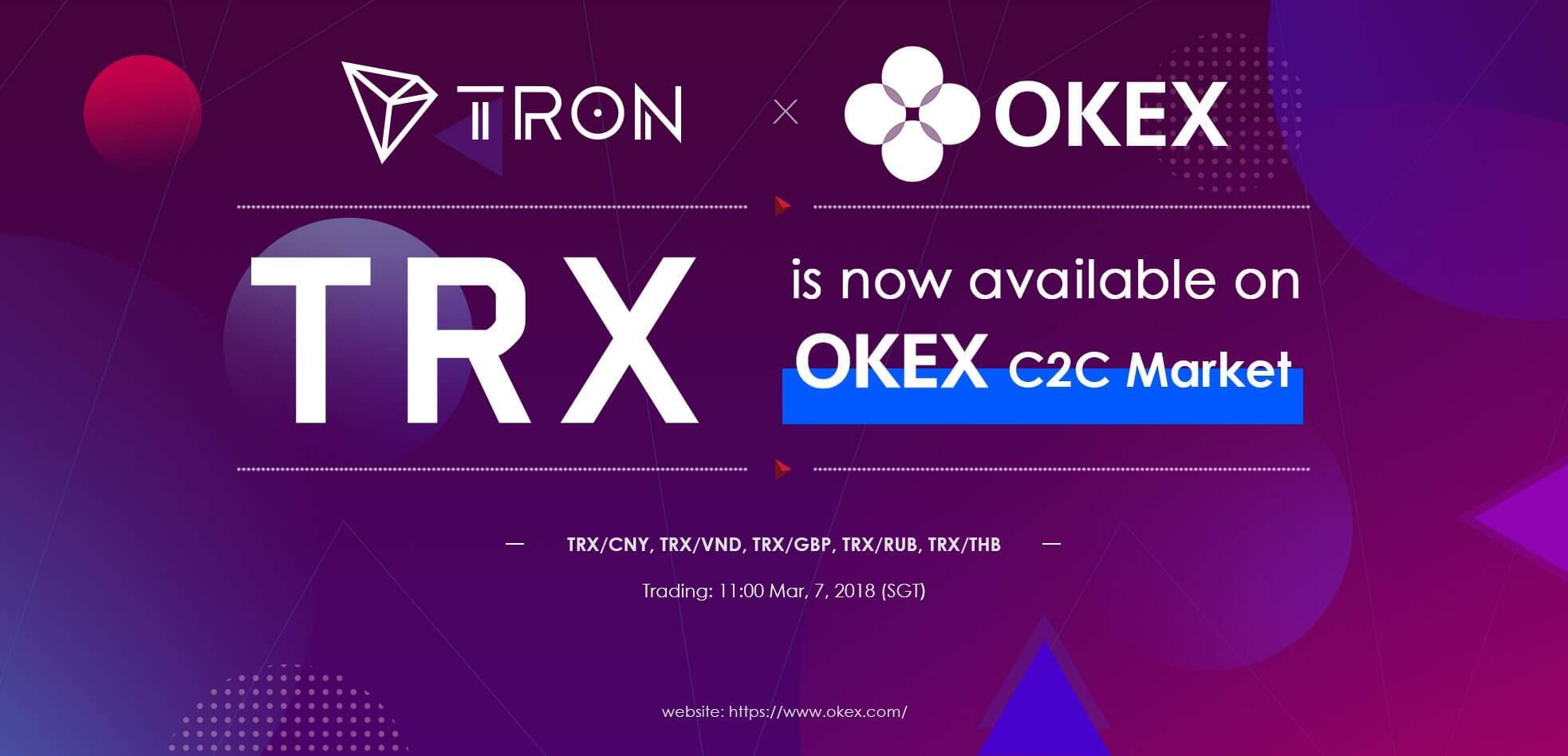 OKEx, a Malta-based cryptocurrency exchange has listed Tron (TRX) on its customer-to-customer (C2C) trading market as per the press release shared by the exchange on March 7.
According to the press release shared with Cointelegraph, the exchange will launch several promotional events for users trading TRX, following the listing. The decentralized C2C trading platform by OKEx's gives users the ability to trade digital assets directly with each other, much like a peer-to-peer (p2p) model.
 The user could also place orders with self-selected exchange rates and payment methods including cryptocurrencies and fiat currencies including British pounds, Chinese renminbi, Vietnamese dong, Russian rubles and Thai baht.
 OKEx started listing Ripple (XRP) and Bitcoin Cash (BCH) on its C2C platform in late February. While doing so, they even delisted three cryptocurrencies: NEO (NEO), QTUM (QTUM) and Exchange Union (XUC).
On a roll, OKEx added four new crypto derivative pairs to its platform, enabling users to trade Bitcoin SV (BSV), QTUM, DASH (DASH) and NEO against Bitcoin or Tether on margin with a 3x leverage option. Currently the second largest cryptocurrency exchange by adjusted trade volume, according to CoinMarketCap. At the time of press, the exchange's adjusted trade volume was $809 million.
Read more: Crypto Markets Wrap Mar 7: Major Cryptocurrencies Trade Sideways, Binance Gains, ABBC Tanks
Image from Justin Sun's Twitter

The post OKEx Adds Tron To Its Customer-to-Customer Trading Platform appeared first on Latest Crypto News.


This content is synced from the rightful owners. Copyright on text and images belong to the original source.

--
This article was first published on: Latest Crypto News